Anchor 2016 Class 3
Lessons from the Jewish Harlot of Christ's Day
Anchor 2016 Class 3
The following transcript comprises  the first few minutes of this Anchor 2016 Class 2 presentation by Pastor Stephen Bohr. I welcome you to this page and pray that you might find the videos in this series as enlightening and informative as I have found them.
Please take the time to watch this series and also to secure a copy of the study notes as they will help complete the course structure.
The study notes can be obtained at Secrets unsealed by clicking the following link. 'Secrets Unsealed'
Pastor Stephen Bohr
Anchor 2016 Class 3
We're studying about Christ's end time events, and let's pick up where we left off in our last session.
We were talking about Pilate, and why Pilate delivered to death an innocent man. I mean three times he came out and he said this man is not guilty; he has not violated any law of Rome.
He said; you know, if he violated Church laws that's your issue, it's not my issue.
Why did he deliver to death an innocent man? Well we don't have to guess; the Bible gives us two reasons, let's go in our Bibles to Matthew 27 and verse 24.
Anchor 2016 Class 3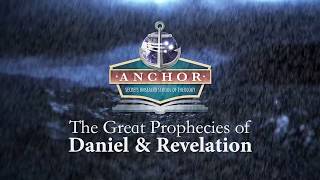 3 Lessons from the Jewish: Anchor Bible Study Secrets Unsealed
3 Lessons from the Jewish: Anchor Bible Study Secrets Unsealed

Study Notes Available at: http://www.secretsunsealed.org/produc... Will Your Anchor Hold In The Coming Storm? Topics Covered in "The Great Prophecies of Daniel & Revelation" Class – taught by Pastor Bohr 385 pages Notes on Revelation 13 Church and State in Revelation 13: The Background of Daniel 2 Lessons from the Jewish Harlot of Christ's Day Notes on Revelation 12 Comments on Revelation 13:1-10 Revelation's Land Beast The Image of and to The Beast The Number of the Beast: 666 The Beast, His Image and His Number: The Old Testament Background The Mark of the Beast The Seal of the Living God Changing the Ordinance A Day to Remember: The Sabbath from Eden to Eden Reflections on Daniel 11 Decoding the Mysteries of Revelation 17 The Last Link in the Prophetic Chain Christ and Antichrist Catholics Protestants and Worldlings Reflections on the Pope's Agenda WHAT IS ANCHOR? Anchor is a seminary-level course of study on the fundamentals of Seventh-day Adventist theology, taught by Pastor Stephen Bohr and guest theologians. Registration fee includes required text books and lecture handouts. Each student is responsible for his/her own daily meals, accommodations and transportation. ANCHOR'S MISSION STATEMENT The mission of ANCHOR is to settle students into the Truth both intellectually and spiritually so that they cannot be moved and to provide the theological skills to share with others the reason for the hope that is in them. "This hope we have as an anchor of the soul, both sure and steadfast, and which enters the Presence behind the veil, where the forerunner has entered for us, even Jesus, having become High Priest forever according to the order of Melchizedek." Hebrews 6:19-20 "Many who embraced the third message had not had an experience in the two former messages. Satan understood this, and his evil eye was upon them to overthrow them; but the third angel was pointing them to the most holy place, and those who had had an experience in the past messages were pointing them the way to the heavenly sanctuary. Many saw the perfect chain of truth in the angels' messages, and gladly received them in their order, and followed Jesus by faith into the heavenly sanctuary. These messages were represented to me as an anchor to the people of God. Those who understand and receive them will be kept from being swept away by the many delusions of Satan." Early Writings, p. 256 (emphasis supplied)
Pilate was afraid of a riot because people were getting angrier and angrier, they wanted Jesus to be crucified, so he says I better condemn him because if I don't I'm gonna have a riot on my hands, it says there in Matthew 27:24.
"When Pilate saw that he could not prevail at all, but rather that a tumult (that's a word for riot) was rising, he took water and washed his hands before the multitude, saying, "I am innocent of the blood of this just person. You see you see to it."
Anchor 2016 Class 3
He says to those who are gathered there; so basically he delivered an innocent man to death, because he wanted to prevent a riot, but there's a second reason, and that is found in John chapter 19 and verse 12, and this is an even more powerful reason, John 19 and verse 12.
"From then on Pilate sought to release Him, but the Jews cried out, saying, "If you let this Man go, you are not Caesar's friend. Whoever makes himself a king speaks against Caesar."
So it was political expediency that led Pilate to deliver to death an innocent man, he was afraid that the word would get to Caesar that he had let go an individual who claimed to be a king; albeit a different kind of King than Caesar was, and Caesar would remove Pilate from his political position.
So it was to preserve his political position, and to prevent a riot that he gave into the desires of the crowd.
In 'Great Controversy page 592' Ellen White says that something similar is going to happen at the end of time.
Anchor 2016 Class 3

"The dignitaries of church and state will unite… (Notice church and state once again) …will unite to bribe, persuade, or compel all classes to honour the Sunday. The lack of divine authority will be supplied by oppressive enactments. Political corruption is destroying love of justice and regard for truth;…"
Is that happening these days, O what would she say if she was writing today?
"Political corruption is destroying love of justice, and regard for truth, and even in free America, rulers and legislators, in order to secure public favor" "
Another way of saying that in order to gain votes, in order to keep their political position, they have to do what the people say, right? It's the government of the people, by the people, and for the people, but when the people are wrong, it becomes a danger, so she says
".. and even in free America, rulers and legislators, in order to secure public favor will yield…"
Is that what Pilate did, yield? Yes; did Pilate believe that he was doing the right thing? No; Is Pilate a dangerous
figure? Only because he becomes the puppet of the church. It continues saying
"..to the popular demand for a law enforcing Sunday observance. Liberty of conscience, which has cost so great a sacrifice, will no longer be respected."